My original route through America was meant to look like this.
My actual route ended up looking like this.
Part of my new journey through America involved catching the Amtrak from New Orleans to Memphis. All I  knew about the Amtrak was from the (absolutely fantastic) novel 'Strangers On A Train', so I wasn't really sure what to expect.
The Amtrak: New Orleans To Memphis: The Good
I love travelling around Europe by train, bus and other modes of public transport, but people told me doing the same in America would be a challenge.
I was surprised when I first realised that the Amtrak is the one and only train service in America. How has such a capitalist country got virtually no competition on their train lines?
The first thing you should know about the Amtrak is that it is really nice. In fact, the Amtrak is the nicest train I have ever been on.
The seats are pretty much what you would expect from the business class area of a plane. Not only do the seats recline, but they also come with adjustable footrests so you can (almost) lie down.
The train had seemed really packed when I was queuing, but I somehow ended up in a downstairs car with just two other people.
The Amtrak also has a (pretty expensive) dining car, an observation deck, and the routes are scenic as hell.
I had really wanted to see rural America which wasn't easy without a car, but when I was on the Amtrak I got to see full on ghost towns, countryside, farms, mobile homes and everything else that isn't going to be on the side of a highway.
The Amtrak: New Orleans To Memphis: The  Not-So-Good
The second thing you should know about the Amtrak is that it is really, really slow and it breaks down all the time.
As in literally every single time you catch it.
My train was scheduled to get to Memphis at 10 PM, but it was delayed as soon as it started and I ended up getting there at 12 pm.
For some stupid reason, I'd decided to check my (pretty small) backpack into the luggage section so I had to wait another half hour for all the luggage to be loaded off of the train.
This wouldn't have been a problem if I hadn't decided to stay at Hostel Memphis
The Religious Hostel
Hostel Memphis is the one and only hostel in Memphis. Unfortunately, this allows them to be as unreasonable as they like because there is literally no competition.
The hostel reception closes at 11 PM, but the staff at Hostel Memphis are prepared to stay open if you are late due to circumstances that are not your fault (i.e. a delayed Amtrak train).
There is a catch though. The hostel charges you $10 for every hour you are late. I ended up having to pay for an extra night just to get in.
The hostel doesn't have a buzzer either and the hostel itself located on the second floor of this big church building so you can't even knock, so they ask that your ring them so they can let you in.
This again would have been fine if I had an American phone, but I could not get American phone numbers to work on my very British iPhone for the entire time I was in America so it wasn't great.
Luckily I had the nicest Uber driver ever who waited with me whilst I tried to get in and even lent me his phone so I could call them.
Hostel Memphis
Despite the rules and uber-religious aspects, Hostel Memphis isn't so bad.
They even have a breakfast of make-your-own pancakes, make-your-own oatmeal, and lukewarm coffee.
They also expect you to do chores for your keep.
They say this is because they are a 'traditional' hostel like the ones in the '80s which would let people stay for super cheap if they helped with cleaning duties. This would have been fine if Hostel Memphis was actually cheap, but $22+ a night is not cheap enough to justify it.
Some of the people who worked there were fairly nice, the area was awesome (if a little far), and it definitely had character, but I can't say it's the best hostel I've ever stayed at.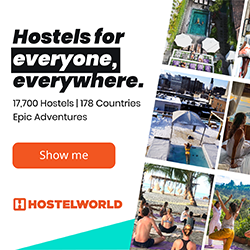 Imagine Vegan
Hostel Memphis is located in the hipster area of Midtown Memphis which is full of street art, small galleries, music shops and bars.
One of the most memorable parts of Memphis for me was the Imagine Vegan Cafe.
Imagine Vegan has a fully vegan menu which doesn't want you to be limited just because you don't eat meat.
They have things like bacon double cheeseburgers, breakfast burritos, spaghetti bolognese, meat subs and everything you've ever not been able to eat on a menu before.
They even had meatless jerky which was horrible, but necessary for the novelty.
The food isn't the best food you'll ever eat in your life, but it is one of the most versatile vegan menus I have ever seen.
If you're one of those vegans who really likes meat but avoids it for ethical or health reasons this is the place for you.
The ElvisMobile
I only had one full day in Memphis and I wasn't really sure what there was to do there. The 'Things To Do In Memphis' google search came up with a bunch of Civil Rights stuff and a bunch of Elvis-related activities.
The Civil Rights Museum is closed on Mondays, so I opted for the Elvis stuff.
There is a free shuttle bus which takes drives you to Sun Studios, Beale Street, and Graceland.
It's really called the Sun Studio Shuttle, but I have christened this shuttle 'The ElvisMobile' because they play Elvis music videos and documentaries on the bus all day long.
You have to pay for Sun Studio and Graceland themselves, but you can just take photos of the area and buy Elvis postcards if you're a cheapskate like me.
I ended up speeding down the motorway to Graceland with a couple of 60-year-olds whilst getting up to date on all things Elvis.
I'm pretty into Elvis now.
Graceland looks a bit like a huge theme park, but it's a bit weird because there isn't really anything there. The actual Graceland, i.e. Elvis's house, is across the road where it's always been and it's fully visible from the sidewalk. I think they have a movie theatre and a tour of Elvis's planes, but that's pretty much it.
Tickets to Elvis's house and the weird theme park area are pretty pricey, but you can just turn up, walk alongside the house walls and read all the messages of love from the undying Elvis fans.
Graceland is pretty far from central Memphis so the shuttle really is the best way to get there. Plus cruising down the motorway watching Elvis videos is actually pretty fun.
Beale Street
Beale Street reminded me of a smaller version of Bourbon Street in New Orleans.
Beale Street is a very historical area which is full of information signs and vintage adverts.
It's quite touristy these days, but it's worth visiting for the history, the colourful guitars, the vibrant atmosphere and the music which you can hear seeping out of the bars.
I didn't get to go and listen to any of the live music as I was on my own and I had to get back for some vegan food, but it is something you should definitely do if you're ever in the area.