I've teamed up with hostel-loving female travellers to share the love of budget travel and give you some personalised hostel recommendations. Read on to discover the best hostels for female travellers in Europe, Asia, Australia, South America and more!
Looking for a specific location?
Nimbin Rox, Nimbin, Australia
Hostel Anne Yokozuna, Tokyo, Japan
Hub of Joys, Koh Lanta, Thailand
ABU Safari Hotel, Jaisalmer, India
Patchwork Hostel, Warsaw,  Poland
M Montreal Hostel, Montreal, Canada
CabanaCopa Hostel, Rio De Janeiro, Brazil
Galaxy Pod Hostel, Reykjavik, Iceland

Meander Taipei, Taiwan
Nomad Hostel, Seville, Spain
Sydney Harbour YHA The Rocks, Australia
Casa Elemento, Minca, Colombia
Hostel World
Nimbin Rox, Nimbin, Australia
by Sophia Moss

Nimbin Rox hostel is surrounded by lush greenery, misty mountains, native wildlife – I heard a snake and a bird having a fight one night – and a multitude of haram pant-wearing travellers. This 420 friendly hostel is about a mile away from the small, sleepy and yet vibrant town of Nimbin which has achieved worldwide fame as the de-facto weed capital of Australia. 
It was a tranquil, happy place far removed from the sweaty London tube.
Since my stay in Nimbin, I've tried to stay in hostels whenever I travel. Aside from the budget prices, hostels are a great way for solo travellers to meet people and get involved in group activities. I know some people have reservations about staying in hostels, but I want to show you how great hostels can be and inspire you to try staying in one at least once.
Hostel Anne Yokozuna, Tokyo, Japan
I have stayed in a handful of hostels around the world including Australia and Asia, and I've always had a good experience, but one of my favourites is Hostel Anne Yokozuna in Tokyo, Japan.
It was so clean I could've eaten dinner off the bathroom floor (gross I know, but you won't disagree with me after you see this place). This was largely thanks to the hostel's rule of "shoes off at the door", which made it feel more like home.  The bedrooms are spacious and each bed has a privacy curtain,  a wall plug and a locker to store your things. The kitchen has traditional Asian tables and the hostel has a large common room for hanging out with all the new friends you've made.
The perks of this hostel include a short 2-minute walk to a train station. It's also close to the sumo wrestling arena, which is one of the big sports Japan is known for! If you get the opportunity to see a match, I would recommend booking a tour. It will include your ticket to the match and a guide who speaks English who will let you know what's going on during the match.
My favourite memory from this trip was sitting around the table in the common room with friends from the USA, The UK, France, Australia and the Netherlands laughing, sharing stories and eating Japanese candy we had grabbed from the corner store. We all had to go our separate ways in the morning, but that evening was such a great unique experience that I would have missed out on had I not stayed in a hostel.
Hub of Joys, Koh Lanta, Thailand
by Lauren Pears
Wow, what can I say about Hub of Joys?
This beautiful hostel is just 300 metres from the beach on Thailand's paradise island of Koh Lanta. The hostel is run by helpful, friendly staff who put so much effort into making sure everyone has a fantastic stay.
I stayed there with my friend Ellie for her birthday and the staff made a cake for her and bought it out while we were all sitting in the common area! I think little touches like that are what makes a hostel A+.
Hub of Joys is very clean, modern yet homely and the free breakfast provided every morning is simply fabulous. The beds are super comfy and have curtains around them so you can get some privacy while you sleep. I also found Hub of Joys to be very social yet relaxed- a key requirement for me when searching for hostels!
Ellie and I made friends with a bunch of other backpackers and it made our stay so much fun, as the six of us would hang out at the beach and go to dinner together. The staff are really great at introducing everyone and ensuring no one feels lonely.
I have to mention "The Book Shack Cafe" which is a 5-minute walk away. This cafe is made of bamboo and you can sit up on the balcony with reggae playing and iced coffee in hand! There's also horse riding, massages and snorkelling to be done in the area. Hub of Joys really is close to a lot of attractions.
It costs between £5.74 and £6.20 a night depending on how many beds are in a dorm. I cannot recommend this hostel enough.
ABU Safari Hotel, Jaisalmer, India
by Demi Johnson
If you are planning a trip to Jaisalmer, you shouldn't miss out on Abu's place. Don't be fooled by the name, this place has much more of a hostel vibe than a hotel.
Abu's caters for everyone, with dorms (mixed or female only) and private rooms available.  Prices range from just $2.25 USD for a bed in a room of 14, or $21 USD for a Superior double, and many options in between! There is a rooftop terrace with great views of the fort, where Abu can often be found chatting with his guests. It is a perfect place to meet other travellers and watch the sunset.
Abu's offers free pickups from the train and bus station. Abu often personally picks his guests up, and likes to show off the tattoo of his own name on his arm as confirmation of his identity! Why? Unfortunately, there are many men jealous of Abu's reputation who loiter around the stations and attempt to take his customers. If in doubt, look for the tattoo!
The hotel offers great value for money and Abu and his staff treat all customers like guests in their home. Abu's is in a great location, within walking distance of the City centre, without being right in the thick of a bustling Indian city. You will find free Wifi and be greeted with a nice cup of Indian Chai on arrival.
The highlight of a stay at Abu's is his famous desert safari trip. You will be driven out into the desert, and then introduced to your camel! The trip includes lunch, a campfire and an overnight stay under the stars.
Patchwork Hostel, Warsaw, Poland
Last month, I went on a mystery holiday. I turned up at the airport, was told where I was going, got on the plane and left.
No time to read loads of reviews, plan what I was going to do or anything like that. I was nervous before going, mainly about where we were going to be staying. Over the years I've stayed in various places, from shockingly bad to alright, but never anywhere that I would call 'good' until I stayed at the Patchwork Hostel.
Not gonna lie, if you had asked me anything about Warsaw before I went, I probably wouldn't have even been able to tell you it was in Poland. It's an amazing city with such fascinating history which I would now recommend to anyone and everyone.
We turned up at the Patchwork Hostel instantly attacked by the bright colours and quirky decor. Our room had 5 bunk beds, a table, hooks to hang coats and 10 big lockers (I was able to fit my suitcase in there). There was a clean kitchen on each floor with loads of tables, so it was never cramped, with a big fridge and loads of cupboard space (but not gonna lie, we ate out all the time, and I would recommend this as Polish food is fantastic!). The common room had a TV, loads of board games, films and tourist information. There were also 4 showers on each floor. With a great central location, we were excited to start our holiday.
However, my favourite part of the Hostel was the bar in the basement, this may make me sound like an alcoholic, but hear me out. The bar followed the decor of the rest of the hostel with two main rooms and a smoking room. Each evening we went down, were instantly swept up into the activities, whether it was a music quiz or a salsa dance class, and welcomed by travellers, staff and locals alike. We spent hours playing games and chatting with people we had just met. It was the people here that really made this hostel amazing.
If I'm ever in Warsaw again, I will definitely stay at the Patchwork Hostel. Its redefined what hostels are for me, and I can't wait for my next trip away.
M Montreal Hostel, Montreal, Canada
by Rebecca Isaacs
Only three blocks from the Berri-UQAM station, the M Montreal hostel in Montreal, Canada provides a chic layout with a relaxed atmosphere for any traveller. When I first stepped into the hostel in October 2017, friendly staff welcomed me and offered a tour of their two buildings.  I couldn't say no – not when an awards plaque for Hostelworld's #2 Best Hostel (#1 in Canada!) shined at me from behind the counter. Imagine my surprise when I discovered they have a bar for hostellers in the basement and a rooftop patio with jacuzzis!
During my stay, I slept in a 10-person female room.  Walking into the room, I couldn't help but grin at my luck.  Not only was the room spacious and modern, but the hostel provided each bed with a thick privacy curtain and the largest storage locker stacked under the beds I've ever seen!  The bed space was an added perk; the M Montreal provided power charge outlets in every bunk, a rack with hangers for coats, and shelves for more storage.
The nice rooms, however, paled in comparison to the daily events.  During my stay, the hostel hosted (in no particular order): karaoke, beer pong, live music, daily Montreal walking tours, and a Halloween party for the ages.  It was thanks to this hostel's nightly events that I was serenaded by a Canadian, lost (badly) to beer pong against some Australians, discussed politics with an Indian economics professor, and made lasting friendships and memories.
For anyone that wants to make friends and get lost in the City of Festivals, for anyone that wants to admire the sparkling skyline of Montreal from a jacuzzi, and for anyone who enjoys a vibrant, friendly atmosphere, the M Montreal doesn't feel like just another hostel – it feels like a second home.  You can walk in without knowing anyone, make friends over beer pong, and leave with memories to last a lifetime.
CabanaCopa Hostel, Rio De Janeiro, Brazil
When you find a hostel that goes above and beyond for you, what do you do? Return.
It's located in Copa Cabana, Rio de Janeiro, with easy access to local beaches. Its travel desk allows you to book kick ass tours around Rio at a very reasonable price (even during carnival).
As a traveller who suffers from anxiety, I was blown away by the efforts of this hostel and its staff. The idea of heading to Rio de Janeiro, known to have its dangers, I was obviously concerned with safety. This is one of the best things about CabanaCopa, they have 24-hour security, which meant I felt completely safe during my stay.
Even though the hostel was at capacity (being the busiest time for them) they delivered fantastic service.
When I needed treatment for pain with my wisdom teeth, the hostel owner organised for a member of staff to accompany me to the emergency dentist and request antibiotics in Portuguese for me.
Overall it was a great place to meet people, get advice on top sights to see and the staff went above and beyond to make my stay enjoyable.
Galaxy Pod Hostel, Reykjavik, Iceland
If you are travelling solo to Iceland, there is no cooler place to stay in Reykjavik than Galaxy Pod Hostel. This hostel is one of the best in the world because not only does it have all the normal amenities (super clean, friendly staff, lockers, lounge, kitchen space, etc.)… but it is super unique. In this hostel, guests actually sleep in space pods! 
There are multiple dorm rooms which house specially made space pods instead of beds. Each pod is quite large and can accommodate even the tallest of people.
There is a comfy bed inside, with proper ventilation and air conditioning. There is a control panel with lots of USB chargers, a clock, a mirror, and multiple lighting options such as black light and a light dimmer. At the foot of the bed is a wide screen TV! The space pods are very secure, yet not claustrophobic.
Galaxy Pod Hostel is the perfect option for people on a stopover in Iceland, or those who want a bit more privacy. Despite the seclusion of the space pods, it is also really easy to meet people and make friends at this hostel thanks to its kitchen, lounge, and TV room.  Galaxy Pod Hostel is only a 15-minute walk to the Reykjavik city centre, and can be reached from the airport by a shuttle bus.
Meander Taipei, Taiwan
Meander Taipei is a hip, modern looking hostel in the heart of Taipei, just a short walk from the Ximending Pedestrian Area. It's a great hostel for solo travellers and groups alike. It's a very social hostel, but it's still easy to have time to yourself.
Occasionally they have a walking tour available around the area to Longshan Temple and night markets. If they don't have any of those scheduled, it's easy enough to get to these things on your own to make your own walking tour.
The hostel offers breakfast, has a beer vending machine, and is close to like, eight 7-Elevens, which are great for midnight snacks. Whether you want to stay in a budget in a dorm or splurge a little on a private room, they have plenty of both and both are going to be an awesome experience.
They have mixed dorms as well as female-only if that is your preference. When I was in Taipei, I stayed here for two weeks and wouldn't hesitate to go back. It's an awesome hostel with great staff in a great location. It's only a ten-minute walk from the closest MRT station. There is a night market or two nearby and the hip Ximending Pedestrian Area is right there as well. Here, you can do some shopping, watch street performers, eat street food, or go to a toilet-themed restaurant.
Meander Taipei is a great option for anyone looking for a little nicer hostel but is still on a budget. Whether it's one night or 12, it will be a fun stay.
Nomad Hostel, Seville, Spain
The Nomad Hostel in Seville has a 9.3 rating on Hostelworld and completely deserves that high rating! Most hostels where I have stayed during my travels were old, dirty, lacked a nice vibe, or all of these things. The Nomad Hostel in Seville is quite the opposite. The bedrooms and common rooms are very clean and the bunk beds look very new. According to the website, they are made by Sevillian artisans. After a long day of exploring Seville, these beds will give you a great night's sleep!
Moreover, the Nomad Hostel is one of the few hostels where I've stayed that is eco-friendly. They offer organic sheets and towels and serve organic and free trade coffee for breakfast (I don't drink coffee myself, but my friends assured me that it was very good). The free breakfast is not the greatest selling point of the hostel but is certainly sufficient.
The hostel also offers dinner for a low price, cooked by the friendly hostel staff.  We personally went out for dinner each evening, but it would certainly be a great way to meet people. The terrace-bar is also a good place for socialising.
Lastly, the hostel is situated in a great location in Seville. It's in the middle of the city centre and only a 10 minute walk to the amazing Royal Alcázar of Seville.
Sydney Harbour YHA The Rocks, Australia
While it's slightly more expensive than the average hostel it has a stunning rooftop terrace with view over Sydney Harbour Bridge and Sydney Opera House that make the extra expense well worth it.
The hostel
also has a lively and sociable atmosphere, with dinner and evening events scheduled every night of the week. Besides the rooftop terrace, there is also a TV room and a common, where you can play table football, watch movies, play video games, chill on the beanie bags and more.
Casa Elemento, Minca, Colombia
by Emma Hinton 
Arriving at Casa Elemento is like coming home. It's the type of place that makes you feel instantly comfortable, the staff are warm, the pool is inviting and the view can capture your attention for hours. The hostel's biggest drawcard is their giant hammock, where a dozen people can comfortably fit and drink in the sunset.
Reaching Casa Elemento isn't easy. You're either looking at a three-hour uphill hike, or you can hire a jeep or bike to taxi you up to the muddy, windy road to the hostels location, but it's entirely worth the hassle. It's a little back-to-nature hideaway tucked up in the coffee farm region of Minca in Colombia and one of my favourite experiences in the South American nation. It felt like I'd joined a little community of like-minded travellers. Like finding a little family away from home. There's no WiFi at the Casa, so there are no distractions and is the perfect place to unwind after a few days or weeks on the road.
During the day you can swim in the pool, hike to coffee farms and waterfalls, or just lounge on their enormous hammock with a chilled Aguila beer for an easy afternoon. Their onsite restaurant with locally sourced and made to order food will keep you full and satisfied but it's their evening meals served family style and nightly campfires that will really make your stay amazing.
Like me? Pin me!
Hostel World
Has this post inspired you to stay at a hostel during your next trip? If so, I highly recommend you book your stay via Hostel World. I always use Hostel World because it instantly displays a huge list of available hostels in your chosen area, it's very quick and easy to book ( which is especially important if your plans have fallen through and you need a place to stay at the last minute) and the website is user-friendly on all devices.
Hostel World tells you exactly what you can expect from each hostel by listing which facilities you will have (i.e. WIFI, washing machine, kitchen etc.), what the hostel looks like (including pictures of the rooms, the exterior and common spaces) and it publishes reviews by former guests so you can see how other people found their stay.
You can also change your reservation up to 24 hours before your stay if you pay a £1 deposit, so you can be as flexible as you like during your travels.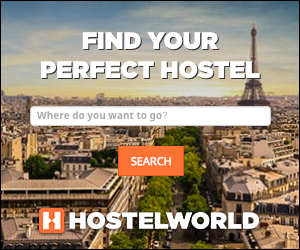 Note: this post does contain affiliate links, so if you buy something from one of my adverts I will receive a small commission at no extra cost to you, but it is not a sponsored post. All comments are the author's honest opinion.