Dreaming of sun, sea and sangria, but can't afford the luxury villa? You might not be able to afford a 5-star resort, but that doesn't mean you can't travel. If you're happy to skip on a few luxuries, read on for my top 5 money-saving travel tips!
Hostels Are Your Friend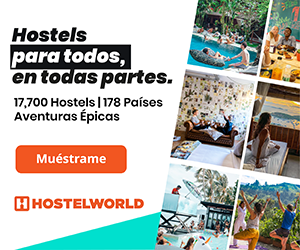 If the idea of sharing a room with 4-50 strangers doesn't fill you with dread, hostels are a great way to save money.  In South East Asia and Eastern Europe, you can get a very nice shared room for £5 a night or less; I've seen rooms for £2 in some destinations.
Hostel World is the best place to find and compare hostels in any destination, plus you can cancel for free up to a few days before your stay if your plans change!
There are downsides with shared accommodation; you may be kept up by snoring, the room might be messy and your roommates might be annoying. However, staying in a hostel can be a great way to meet people if you're travelling by yourself.
Solo travel can be lonely, so it's nice to find a group for bar crawls, sightseeing and evening chats. You might become lifelong friends or you could never see them again, but you'll always remember those few days you spent together.
No Affordable Hostels? Try Airbnb
While established hostels are very affordable in many destinations, there are a few places where your average night in a hostel could cost £40 or even more. When I travelled around the USA last year, I was horrified to see how expensive regular hostels were.
This is where Airbnb comes in.  Airbnb hostels are shared living spaces which normally come with bunk beds, a shared kitchen area and a living room. The owner is unlikely to live there, which means you and the other guests are essentially living in a temporary house share.
No owner means no staff or security. You will be alone with a bunch of strangers, which may not be your cup of tea. I stayed in several Airbnb hostels in the USA and never had any problems, but it's fair enough to have concerns. If you can't bring yourself to stay in a shared room, there are many other options on Airbnb which may still be more affordable than regular hostels in your chosen destination.
Cook Your Own Food
Food is a big part of the travel experience, no one is saying you should miss out on the local cuisine. Eating out every day, however, can quickly become unsustainable.  Try cooking most of your meals and occasionally treating yourself; your wallet will thank you later!
Hostels and Airbnb's often have a kitchen where you can cook hot food, but there are still ways to save money on food if your accommodation doesn't come with an oven or a hob. Salad and hummus sandwiches are one of my favourite travel staples because they are healthy, filling and nutritious. All you need is a knife, a plate and a fridge.
Use Local Buses & Trains


The Greyhound gets a bad rep, but it is one of the most affordable ways to travel around the United States. Coach travel in Europe is ridiculously affordable; I travelled from London to Bulgaria without driving or catching a single plane and the most I ever spent on a bus or train was £45.
Travelling by coach won't give you a great nights sleep, but it will get you to your destination without burning a huge hole in your bank account.
Don't Visit Every Tourist Attraction
Some attractions shouldn't be missed; I don't regret visiting the Van Gogh gallery in Amsterdam, booking a day trip to Chichen Itza in Mexico, or taking the Hobbiton movie tour in New Zealand.
If there is a museum, tour, attraction or experience you really want to see, don't miss out just to save money. You want to enjoy your trip and come back full of stories about all the things you've seen; not sulk back full of regret about all the things you didn't do.
There are, however, some tourist attractions that really aren't worth the money. Before you whip out your wallet, think about why you want to do that activity or see that particular thing. Is it something you're genuinely interested in? There are loads of free and cheap things to do in every city, so save your money for the activities you know you'll regret missing out on and give Maddam Tussades a miss.
What are your money saving travel tips? Let me know in the comments!